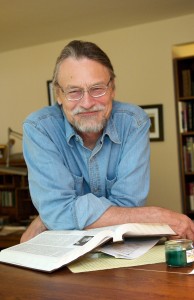 With fans numbering in the millions, Walter Wangerin, Jr. is widely recognized as one of today's most gifted writers on issues of faith and spirituality.  Beginning with the renowned Book of the Dun Cow, Wangerin's writing career has encompassed almost every genre: fiction, essay, spirituality, children's stories, and biblical exposition.
Wangerin has won the National Book Award, the New York Times Best Children's Book of the Year Award, and several Gold Medallion Awards, including best fiction awards for both The Book of God and Paul: A Novel.  Wangerin's most recent work, Everlasting is the Past, was released in the summer of 2015.  This memoir of Wangerin invites the reader into the past to experience his loss of faith as a young seminarian, his struggle to find a place for his chosen vocation amid a storm of doubts, and his eventual renewal in the arms of an inner-city church called Grace. With his inimitable style and keen eye for detail, Wangerin remembers his own story and gives it to us as an everlasting testament to the faithfulness of God.
Wangerin was speaker for the Lutheran Vespers radio program from 1994 through January 2005, and prior to joining Valparaiso's faculty he served as an inner-city pastor in Evansville, Indiana for 16 years.  The author of more than forty books, Wangerin lives in Valparaiso, Indiana where he is Senior Research Professor at Valparaiso University.