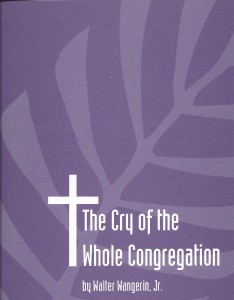 In celebration of Palm Sunday, Walter Wangerin, Jr. created the engaging and moving drama titled, "The Cry of the Whole Congregation."
Many congregations have experienced the Passion of Christ in a vivid and palpable way through the use of this participatory drama.  Its movement and its simplicity draw the worshipper into the very midst of the Passion of Christ.
For more information or permission to use "The Cry of the Whole Congregation" this year, please email Joseph Wangerin at joe.wangerin@gmail.com.
Click here for a look at the first two pages of the service bulletin.