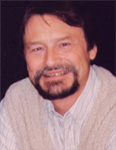 Walter Wangerin, Jr. has already had enough life experience to fill several lifetimes. He has worked as a university professor, a radio announcer, and a book reviewer; he has traveled with migrant farm workers, participated in a Lakota Indian sun dance, and has been pastor of an inner-city church. Finally, he has written more than thirty books that have become favorites of people in all walks of life and of all ages.
His first novel, THE BOOK OF THE DUN COW, won both the National Book Award (Am.B.A., 1980) and The New York Times Best Children's Book of the Year, was followed by a sequel, THE BOOK OF SORROWS. In THE BOOK OF GOD, Wangerin uniquely sets forth the Biblical story in its own cultural and social settings. His collection of stories, RAGMAN AND OTHER CRIES OF FAITH, THE MANGER IS EMPTY, AND MIZ LIL AND THE CHRONICLES OF GRACE and IN THE DAYS OF THE ANGELS have reached a wide audience.
Among Walter Wangerin's nonfiction books are PREPARING FOR JESUS (advent meditations), AS FOR ME AND MY HOUSE (about marriage), LITTLE LAMB, WHO MADE THEE? (about parents and children), MOURNING INTO DANCING (about mourning and grieving), and RELIVING THE PASSION (a meditation on the death of Jesus). He has also written children's books including WATER, COME DOWN, MARY'S FIRST CHRISTMAS, THISTLE, and POTTER. He also wrote THE CRYING FOR A VISION, a mystical tale about a Lakota boy's effort to save his people.
His latest books, SAINT JULIAN (a saint's tale) and THIS EARTHLY PILGRIMAGE (a compilation of three previously published books with added material) are currently available.
Currently, Wangerin holds the Jochum Chair at Valparaiso University in Valparaiso, Indiana, where he teaches literature and creative writing, and is writer-in-residence.