Zondervan Publishing © 2019
To Purchase
For the paperback, click here.
About
Acts of the Almighty by beloved, National Book Award-winning author Walter Wangerin Jr. carries us sequentially through the sweep of the Bible's story in daily devotional readings.
One of the greatest modern writers on faith and spirituality, Walter Wangerin Jr. is the author of more than forty books – including The Book of God and The Book of the Dun Cow – and the recipient of the National Book Award. In Acts of the Almighty, Wangerin's deep biblical insight and poetic heart help us explore how the Bible fits together into one grand story.
This 365-day devotional invites us to understand more fully God's redeeming works through five sections: Genesis and Exodus, David and Solomon, the prophets, the life of Christ, and the birth of the Church. The short, daily readings capture Wangerin's signature voice as well as his profound wisdom. Each dated entry contains a biblical passage that focuses on a single moment from the Bible's epic story, a brief meditation from Wangerin, and a prayer.
Sink deep into this unique devotional that takes you through the Bible in one year. Acts of the Almighty offers a beautiful opportunity to read the Bible's expansive and arresting story in a brand-new way.
Rabbitroom Publishing House © 2018 Walter Wangerin, Jr.
To Purchase
For the paperback, click here.
About
One of Wangerin's most beloved works, Miz Lil & the Chronicles of Grace leads readers on two parallel journeys: one a series of tales from Wangerin's youth as he reveals his descent into human sinfulness, the other a chronicle of his awakening to the great grace of God through relationship with his congregation while pastor of an inner city church.
In this series of alternating stories, Wangerin's staggering facility with language is at its most vibrant. Witty, sharp, rollicking, and unexpected, his prose crackles with life and hard-won insight. Characters like Miz Lil, Grandpa Storck, and Jolanda Jones are rendered unforgettable by his vivid writing and their unmistakable humanity.
Miz Lil and the Chronicles of Grace is a book shot through with emotional weight, and Wangerin's steady hand carries us through the wasteland of the human heart and lands us squarely in the grace and mercy of God.
Zondervan Publishing Copyright © 2017 Walter Wangerin, Jr.
To purchase
For the hardcover, click here.
For the audio book (read by Walt Wangerin), click here.
About
In Wounds Are Where Light Enters, you'll see how God's love breaks into our lonely moments in unexplainable ways. Wangerin tells the stories of memorable characters facing the same struggles we all face as we try to trust in God's faithfulness.
Wounds Are Where Light Enters is a collection of stories that are warm, sometimes funny, sometimes not, but always taking unexpected turns to find the care of God in all the pathways of life. In them we find the grace that enables us to live with the answers we see and the answers we don't see. In this collection we meet Arthur Bias, the retired black police officer who loves those who hate; Agnes Brill, the shrill piano teacher of patience; Junie Piper, precious of the homeless; Melvin, who honors his aging mother by honoring the little girl she has become; Lucian, the lover of thieves; and Blue Jack, the hammer of God.
Readers will discover in these stories a powerful display of God's working in the lives of all of us. They'll find a place where he works even in the dark, even in the struggles, even in the wounds. This is the place where God's light enters.
Wipf and Stock Copyright © 2017 Walter Wangerin, Jr.
"Wangerin the poet has done what few Christians, few clergy, and few servants of the word ever accomplish: he has set aside our common penchant for easy consolation, favoring a strenuous pursuit of authenticity and truth, wielding as his only tool a tenacious faith that language–its echoing music, its provocative cadences, its taste on the tongue–will lead him into glimpsing otherwise unavailable knowledge."
— Scott Cairns, from the foreword
About
The Absolute, Relatively Inaccessible is a volume of poems divided into three parts. The three parts are bound together by a brace of persistent and developing themes, as well as by the repetition (and the development) of language, metaphor, and imagery.
Part 1 presents various characters (mostly African American) confronting death.
The poems in part 2 are spoken by an unnamed narrator about his cancer. My cancer, actually, and my experiences.
Parts 2 and 3 both descend into silence.
Part 3 is a radical reworking of the ancient Mesopotamian epic loosely known as The Songs of Heaven and Hell. The poems are not a translation, though each derives from a separate song, and each uses the characters, the events, the worldview, and the stark imagery of Babylon in the third century BCE. In many respects, these poems have the prosody of the biblical psalms.
To purchase
Beate Not the Poore Desk
Rabbit Room Press Copyright © 2016 Walter Wangerin, Jr.
Click here to order the soft cover.
For the first time, National Book Award-winner Walter Wangerin, Jr., turns his keen eye upon the craft of writing. Adding a lifetime of experience to the wisdom and examples of other writers (Shakespeare, Goethe, Berry, Chaucer, and many more), he builds for us an intricate picture of the craft and its many subtitles.
But in revealing his own missteps, his own processes, and his own story, Wangerin provides a lantern for young writers as they embark on the long road toward mastery.
Through practical advice, ethical considerations, and a master's definition of art itself, Wangerin draws us all closer to what it means to write—and to write well.
Visit RabbitRoom.com for this book along with many other great works by gifted musicians and writers such as Andrew Peterson, Jason Gray, Eric Peters, Jill Phillips and Andy Gullahorn.

Rabbit Room Press Copyright © 2015 by Walter Wangerin, Jr.
Click here to order the softcover.
In this new memoir by National Book Award-winning author Walter Wangerin, Jr., he invites the reader into the past to experience his loss of faith as a young seminarian, his struggle to find a place for his chosen vocation amid a storm of doubts, and his eventual renewal in the arms of an inner-city church called Grace. With his inimitable style and keen eye for detail, Wangerin remembers his own story and gives it to us as an everlasting testament to the faithfulness of God.
Visit RabbitRoom.com for this book along with many other great works by gifted musicians and writers such as Andrew Peterson, Jason Gray, Eric Peters, Jill Phillips and Andy Gullahorn.
Zondervan Press Copyright © 1992 by Walter Wangerin, Jr.
Click here for the eBook.
Click here for the hardcover.
No story has more significance than this: the death and resurrection of Jesus. But somehow the oft-repeated tale of Christ's passion can become too familiar, too formalized, for us to experience its incredible immediacy. The meditations in Reliving the Passion, which received a Gold Medallion Award in 1993, follow the story as given in the gospel of Mark—from the moment when the chief priests plot to kill Jesus to the Resurrection. But these readings are more than a recounting of events; they are an imaginary reenactment, leading the reader to re-experience the Passion or perhaps see it fully for the very first time. As only a great storyteller can, Walter Wangerin enables the reader to see the story from the inside, to discover the strangeness and wonder of the events as they unfold. It's like being there. In vivid images and richly personal detail, Wangerin helps us recognize our own faces on the streets of Jerusalem; breathe the dark and heavy air of Golgotha; and experience, as Mary and Peter did, the bewilderment, the challenge, and the ultimate revelation of knowing the man called Jesus. "The story gets personal for every reader," writes Wangerin, "for this is indeed our story, the story whereby we personally have been saved from such a death as Jesus died. "No, there is not another tale in the world more meaningful than this—here is where we all take our stands against sin and death and Satan, upon this historical, historic event. I consider it a holy privilege to participate in it retelling. "Read this book slowly. Read it with a seeing faith. Walk the way with Jesus. We, his followers of later centuries, do follow even now. Read, walk, come, sigh, live. Live! Rise again!"
The Book of the Dun Cow
HarperOne Copyright © 2003 by Walter Wangerin, Jr.
Click here for the eBook.
Click here for the softcover.
Walter Wangerin's profound fantasy concerns a time when the sun turned around the earth and the animals could speak, when Chauntecleer the Rooster ruled over a more or less peaceful kingdom. What the animals did not know was that they were the Keepers of Wyrm, monster of evil long imprisoned beneath the earth … and Wyrm, sub terra, was breaking free.
Diversion Press Copyright © 2015 by Walter Wangerin, Jr.
Click here for the eBook.
Click here for the softcover.
From National Book Award-winning author Walter Wangerin, Jr. comes the thought-provoking sequel to The Book of the Dun Cow, with new and revised content.
Seeking peace and respite after their devastating battle with the Wyrm, Chauntecleer and his wife Pertelote again lead the animals of the Coop. But their quest is interrupted when Wyrm once again insinuates himself into the lives of the animals. To defeat this ancient evil for good, Chauntecleer will have to face Wyrm again, not on the battlefield, but deep within the serpent's lair, risking his very soul to ensure the safety of the animals under his protection.
The Third Book of the Dun Cow – Peace at the Last
Diversion Press Copyright © 2015 by Walter Wangerin, Jr.
Click here for the eBook.
Click here for the softcover.
The long awaited conclusion to the National Book Award-winning THE BOOK OF THE DUN COW trilogy, from Walter Wangerin, Jr.
Pertelote, widow of Chauntecleer the Golden Rooster, takes up his mantle as leader of the Animals as they seek safety from the great evil of the Wyrm and his children. Desperate to keep safe those she's responsible for, Pertelote is travelling blindly, suffering the purposeless, undirected, but insistent journey as the new leader.
Two other groups of Creatures are making their own journeys through the perilous land: Eurus the merciless yellow-eyed Wolf and his pack, and the sociable pair Wachanga the Cream-Colored Wolf and her friend Kangi Sapa, the Raven. When Pertelote and her band of Animals meet Wachanga and Kangi, she finds much-needed allies in her travels. Allies that become all the more valuable after cruel Eurus begins following the weary Animals with a murderous intent.
When the disparate bands of Creatures converge on a hidden crater high in the dangerous mountains, they make a monumental discovery that may finally mean an end to their trials and tribulations.
The epic journey begun in THE BOOK OF THE DUN COW reaches its powerful conclusion in THE THIRD BOOK OF THE DUN COW: PEACE AT THE LAST, proving the sacrifices of Chauntecleer and the Animals were not in vain.
Zondervan Press Copyright © 1996 by Walter Wangerin, Jr.
Click here for the eBook.
Click here for the softcover.
Here is the story of the Bible from beginning to end as you've never read it before, retold with exciting detail and passionate energy by master storyteller Walter Wangerin Jr. The Book of God reads like a fine novel, dramatizing the sweep of biblical events, making the men and women of this ancient book come alive in vivid detail and dialogue. From Abraham wandering in the desert to Jesus teaching the multitudes on a Judean hillside, this award-winning best-seller follows the biblical story in chronological order. Priests and kings, apostles and prophets, common folk and charismatic leaders — individual stories offer glimpses into an unfolding revelation that reaches across the centuries to touch us today.
Zondervan Press Copyright © 2000 by Walter Wangerin, Jr.
Click here for the softcover.
An intimate portrait of a complex individual through whom God was at work, turning the world upside down. With vivid imagination and scholarly depth, award-winning author Walter Wangerin Jr. weaves together the history of the early church with the life story of its greatest apostle–Paul. Wangerin begins to unfold Paul's incredible life by imagining the childhood and early family life of a boy then called "Saul." A fierce prosecutor of Christians before his conversion, Paul never lost his fiery dedication, boldness, and strong personality. After his shocking encounter with God on the road to Damascus, he applied his formidable strengths to spreading the gospel. Wangerin deftly reveals Paul's character through each stage of his life, and enables us to see Paul the person, living and complex, viewed through the eyes of his contemporaries: Barnabas, James, Prisca, Seneca, and Luke. Paul's rich interaction and brilliant dialogue with friends and foes, leaders and slaves, Jews and Greeks, creates a swift and intense historical drama around the man who spread the seed of the Gospel to the ends of the known world.
Miz Lil and the Chronicles of Grace
Click here for the eBook.
Walter Wangerin poignantly reflects on his American life and faces its lessons with moving honesty. Woven together are rich experiences of growing up a fiesty pastor's son, discovering his powerful gift for storytelling, and reconciling his prophetic words with his all-too-human actions. An alternately humorous and tragic confession of grace, Miz Lil beautifully chronicles Walter Wangerin's journey of faith.
(available in eBook)
Letters from the Land of Cancer
Zondervan Press Copyright © 2010 by Walter Wangerin, Jr.
Click here for the eBook.
Click here for the hardcover.
In Letters from the Land of Cancer, award-winning writer Walter Wangerin Jr. offers his profound insights into the greatest challenge we face: confronting our own mortality. "Shortly after the cancer had been diagnosed I began writing letters to the members of my immediate family, to relatives and to lifelong friends. The following book will consist mostly of those letters. They will invite you into my most intimate dancing with the cancer, even as that partner and I have over the last two years swung each other around the tiled floors of ballrooms and bathrooms. Dizzy still, and day by day, I sat and wrote: This is what I'm feeling right now. This is what I think.…" From afternoon to afternoon of radiation, Wangerin wrote about confronting his mortality, about living with the messiness of undone tasks and bodily weakness. He wrote about the medical procedures he endured, the wild mood swings that unbalanced his days, and the fragilities and strengths of the relationships that surrounded him. Letters from the Land of Cancer is made up of these writings. Cadenced within the letters are Wangerin's eloquent meditations derived from his pastoral experiences with the faithful passage of death to life. Seldom has the great adventure of life and death been as beautifully presented as it is in this testimony to faith, love, and the shocking reality of hope.
Thomas Nelson Press Copyright © 2001 by Walter Wangerin, Jr.
Click here for the eBook.
Click here for the softcover.
Most books on marriage offer ten easy steps and twenty-five proven principles for achieving marital bliss. But Walter Wangerin side-steps such easy answers and offers us instead an intimate portrait of his own courtship and thirty-two year marriage-and a pastoral view of married life that inspires readers to view their own marriages with new honesty and hope. Wangerin's six tasks of marriage encourages couples to better understand and happily live out the vows they made, giving them tools to nurture and maintain a strong marital relationship. In his endorsement, Philip Yancey accurately describes this book as "an enduring classic and a book of wisdom, beauty, compassion, and piercing honesty."
Zondervan Press Copyright © 1992 by Walter Wangerin, Jr.
Click here for the softcover.
"Death doesn't wait till the ends of our lives to meet us and to make an end," says Walter Wangerin. "Instead, we die a hundred times before we die; and all the little endings on the way are like a slowly growing echo of the final BANG!" Yet out of our many losses, our "little deaths," comes a truer recognition of life. It is found in our relationships with ourselves, with our world, with others, and with our Creator. This is the dancing that can come out of mourning: the hope of restored relationships. Mourning into Dancing defines the stages of grief, names the many kinds of loss we suffer, shows how to help the grief-stricken, gives a new vision of Christ's sacrifice, and shows how a loving God shares our grief. We learn from this book that the way to dancing is through the valley of mourning–that grief is a poignant reminder of the fullness of life Christ obtained for us through his resurrection. In the words of writer and critic John Timmerman, Mourning into Dancing "could well be the most important book you ever read."
Zondervan Press Copyright © 1998 by Walter Wangerin, Jr.
Click here for the softcover.
A trustworthy guide to an intimate and refreshing relationship with God Award-winning author Walter Wangerin Jr. gracefully explores the dynamics of prayer–of speaking, of listening, of waiting, and of hearing God's voice. With luminous prose, he surveys the landscape of communication with God–what prayer feels like, looks like, and sounds like. He points out that whole prayer is a circle, closed and complete. We pour out our hearts and minds to God, who listens as we do. Then we listen intently for his voice when he speaks. Wangerin encourages readers not to eliminate any part of the circle so we don't cut the conversation short.
Click here for the eBook.
Moves Walking–Waskn Mani–is an unusual boy. To the amazement of his fellow Lakota tribesman, he does not hunt or fight. Instead he stitches clothes, supple and warm–and the beauty of his quillwork has never before been seen. So when Moves Walking challenges Fire Thunder, the fiercest of all warriors, nobody can understand why or how he would dare. Fire Thunder's thirst for battle has made him a living legend–revered by his people and feared by his enemies. He is going to lead the Lakota to victory over everything and everyone, and no boy is going to stop him.
But Moves Walking knows the truth about Fire Thunder's path to glory. He knows it will lead to the destruction of his people as well as their enemies. But Moves Walking also knows that to bring the Lakota back to life and hope, he will have to make the greatest sacrifice of all.
Naomi and Her Daughters: A Novel

Zondervan Press Copyright © 2010 by Walter Wangerin, Jr.
Click here for the eBook.
Click here for the hardcover.
From master storyteller Walter Wangerin, Jr. comes this familiar biblical saga told in a fresh, transfixing way. You'll feel you've never heard it before! Melding historical accuracy with imaginative detail, Wangerin uses the biblical books of Judges and Ruth to explore themes of love, faith, grief and community set against a backdrop of war and political instability. The widow Naomi grieves the deaths of her two adult sons after the shocking murder of a beloved adopted daughter, while pondering her responsibilities toward her Moabite daughters-in-law. Ancient Israel is in chaos. When her daughter-in-law, Ruth, begs to return to Israel with Naomi, events are set in motion that will change the course of history. But wait…this isn't the tame, flannel graph story you heard in Sunday School. In the tradition of Anita Diamant's The Red Tent and Elissa Elliott's Eve: A Novel of the First Woman, Wangerin imbues his tale with strong female characters and an earthy realism that gives the timeless Old Testament narrative so much power. You'll find echoes of contemporary issues throughout: deceit, heartbreak, loss, war, and, of course, the power of love. Naomi's combined strength and tenderness becomes the pivot upon which a nation turns; her decisions ultimately lead to the founding of the family lineage of Jesus Christ. Breathtaking descriptions, shocking violence, and inspirational courage make this spellbinding novel by a beloved award-winning author a story you won't soon forget. It's the perfect novel for your book group, and a satisfying read for those who love thoughtful biblical fiction.
Ragman and other cries of faith
HarperSanFrancisco Copyright © 2004 by Walter Wangerin, Jr.
Click here for the eBook.
Click here for the softcover.
Updated with eleven new stories and meditations, this Gold Medallion–winning classic interweaves vivid stories, deep meditations, and provocative allegories that together explore the power and meaning of love within an often inhumane urban landscape. The opening chapter, "Ragman," remains one of Walter Wangerin Jr.'s most beloved works and leads the reader to thirty–three other writings, all bearing the author's trademark poignancy and lyricism. Ranging from gentle reflections to heart–rending invocations, these selections are powerful, thought–provoking explorations of the meaning of faith, the person of Christ, and the communion of believers. Again and again, Wangerin's cries of faith touch our deepest pains with rays of joyful healing.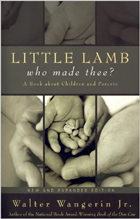 Little Lamb Who Made Thee?:  A book about Children and Parents
Zondervan Press Copyright © 2003 by Walter Wangerin, Jr.
Click here for the softcover.
A new and updated edition of this classic collection. This volume of stories, essays, prayers, and poems portrays children and adults as they grapple with the deep realities of life. This new, updated edition contains twelve new stories.
Father and Son: Finding Freedom
Zondervan Press Copyright © 2008 by Walter Wangerin, Jr. & Matthew Wangerin
Click here for the hardcover.
Given our history, this father and this son might well have gone completely separate ways … And only in becoming a father did I even begin to understand what it meant, what it was, what would be required of me, and who I was/am within that identity, father. Pastor, author, and father Walter Wangerin Jr., along with his adopted son, Matthew, tell the story of their own lifelong relationship and how they survived times when brokenness and bitterness seemed inevitable. It is the story of Matthew's desperate search for independence and his father's own search for authentic fatherhood. This is a book of deep emotion and serious meditation about broken lives and redemption. Father and Son weaves together each writer's personal story and shows: how earthly fathers and sons are shaped by a Creator's relationship with his creation how within the human experience of parenting we discover insights into the spiritual nature of home, family, and eternity itself as in As for Me and My House, Mourning into Dancing, and Little Lamb, Who Made Thee?, Walter Wangerin Jr. develops a series of insights about family, which readers can apply to their own lives. And these insights gain added resonance from the words of Matthew Aaron Wangerin. Together, father and son have written a book that must be experienced as well as read. It's a book parents will want to bring their lives to, not just their attention. Father and Son is the story of all of us, for we are all wayward children in need of a loving, patient father.
Zondervan  Press Copyright © 2005 by Walter Wangerin, Jr.
Click here for the eBook.
Click here for the softcover.
With eloquence and beauty, the award-winning author of Book of the Dun Cow, The Book of God, and Paul: A Novel turns his pen to history's most compelling figure: Jesus of Nazareth. In vibrant language, Walter Wangerin Jr. sweeps away centuries of tradition and reveals a man of flesh-and-heart immediacy. Passionate, intelligent, and irresistibly real, this is a Jesus pulsing with life who will captivate you as thoroughly as he did the men and women who walked with him across Galilee's golden countryside. Days of centuries past become today, lit with bright colors of the imagination. Wangerin shows you Jesus through the eyes of the two people who were with him at very the foot of the cross, the two who knew and loved him best: John the apostle, and Jesus' beloved mother, Mary. . . . Angels in legions sang when you were born, my beautiful Yeshi! At midnight they poured down from the heavens, every one a whirling star, ten thousand voices in a skyborne choir. "Glory," they sang, and I felt the bedrock tremble. You popped your eyes open. You peered around, seeking the source of the music and waving your hands as if to catch the stars in them! Here is a magnum opus of image and emotion: Jesus bringing his father the sacrificial lamb in Jerusalem's temple . . . Mary desperately searching for her son in the wind-lashed rain . . . the cry of gratitude from a leper's lips . . . the loving intimacy of Jesus in prayer . . . the fury of religious leaders . . . the agony of an iron crucifixion spike piercing human sinew . . . Loving son, intimate friend, and brilliant teacher, tender in heart, fierce in anger, wholehearted in joy and in grief, deeply human yet unmistakably divine—this is the Jesus who lives and breathes in these pages. The Jesus of the Bible, revealing God's heart in the midst of time and culture.
Zondervan Press Copyright © 1999 by Walter Wangerin, Jr.
Click here for the eBook.
Click here for the hardcover.
In Preparing for Jesus, best-selling author and master storyteller Walter Wangerin Jr. recreates verbal images of the events surrounding the Advent of Christ, offering a devotional journey into the heart of the Christmas season. Through rich detail and vivid images, these moving meditations make Christ's birth both intimate and immediate, allowing us to see Christmas from its original happening to its perennial recurrence in our hearts. Preparing for Jesus is sure to be a seasonal classic, treasured year after year.
A Prayerbook for Husbands and Wives
Augsburg Fortress Press Copyright © 2000
Click here for the softcover
A rich collection of prayers for all occasions written by, and uniquely tailored for, a husband and wife to use together. In their engaging foreword, Walter and Ruthanne Wangerin describe their practice of prayer—and the compelling role prayer has played in their relationship. In addition, they suggest helpful, creative ways spouses can use the book together.
Prayers are grouped under six major headings: "Daily Living as Husband and Wife," "Love and Loving," "Times of Suffering," "For the Faith of My Spouse," "Roles as Children and as Parents," and "Traveling." Topics and occasions for the prayers are as universal—and as personal—as the experiences of marriage partners everywhere. The Wangerins offer a collection of prayer litanies that turn everyday events into shared, sacred occasions and make special events even more meaningful. The final section of the book provides marriage partners with simple step-by-step instructions for a private, yearly retreat that can renew and refresh their love for one another and their faith in God.