Water, Come Down!  The Day You Were Baptized
Click here for the hardcover.
A lyrical story that personalizes the beauty, joy and meaning of Baptism. Includes family "discussion-starters" about the significance of Baptism, its roots in the biblical story and its meaning for life today.
Click here for the hardcover.
This original tale is told by a granddaughter (Enkelin, in German), looking back in loving memory at all that her German-American grandpa taught her.
Grandpa shows his precious Enkelin how to live well – and at the end of his life, he also shows her that death is not an end, but a new beginning.
Children will be fascinated by life on the farm, from caring for horses to working together in the garden. Famed storyteller Walt Wangerin will delight readers once again with carefully detailed, beautifully woven prose.
Click here for the hardcover.
For the Musical, CD, Lead Sheets or Music Scores, click here. 
A fresh retelling of the Nativity story, this gorgeously illustrated book with artist Tim Ladwig also features a music CD with beautiful, original carols by Broadway composer Randy Courts. Offers ideas families and groups can use to create a new Christmas tradition.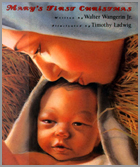 Mary's First Christmas
Click here to order the hardcover.
On the night you were born the whole sky exploded with love, and the angels shouted, and more than a thousand hearts were in love with my baby Jesus on his birthday! Gather near and listen to the wondrous bedtime story, told long ago by a special mother to her very special son. Listen as Mary tells five-year-old Jesus of the first Christmas — of his own birth and the remarkable events that surrounded it. Award-winning author Walter Wangerin tells this moving story in four parts, to be read in one sitting or over the course of four nights. And artist Timothy Ladwig brings to glowing life the people and places of Jesus' young life. Listen. Look. And you too will experience the wonder and glory of Mary's First Christmas.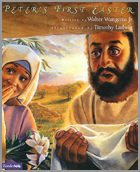 Click here to order the hardcover.
In Peter's First Easter,  Wangerin conveys the significance of Christ's death and resurrection in a way that is accessible to children. Doing for children what The Book of God did for adults, Wangerin tells the story of Peter and the stirring events that rocked his life at the time of Jesus' arrest and crucifixion.
With simple, vivid prose, the author shows children the wonder of God's forgiveness. Peter's First Easter probes human feelings, especially those of Peter. Children will sense Peter's deep love for his Lord, his shame at betraying him, his desolation at Jesus's death, and his joy when Christ rises from the dead and again beckons him, Follow me. They will understand the depth of friendship between Peter and his Savior.
Lavishly illustrated by Tim Ladwig, this companion volume to the best-selling Mary's First Christmas is ideal for parents and grandparents to read aloud to the children they love. Sharing this poignant book at Easter brings the true meaning vibrantly alive and builds a family tradition with eternal significance.